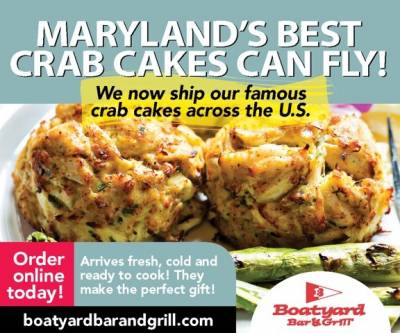 Did we pass along that we are now shipping overnight our Maryland's Best Crab Cakes across the country? What a great gift for your Uncle Louie's birthday. Go to our website to order the Boatyard's all-killer, no filler crab cakes online!
We are all ready for the Boatyard Regatta today. Weather looks great. Big after party at EYC with Misspent Youth. If you can't sail come to the party - $10 donation at the door. We hold it to benefit C.R.A.B. – Chesapeake Region Accessible Boating –which gets those with disabilities out sailing. Thanks to Mount Gay Rum for their very special red hats, Heineken for the shirts and financial support, SpinSheet Mag, Annapolis Volvo, North Sails---and all of our other generous supporters.
The Boatyard participated in the Governor's Cookout promoting locally produced food purveyors and restaurants/caterers. We partnered with Patrick Mahoney of Wild Country Seafood serving up their soft crabs for soft crab BLTs. Amazing -I think the most popular item there. Here are some shots of Governor Hogan, Chef George, Patrick, Georgie, me and our great team. Fun time. Hope we can do it again.