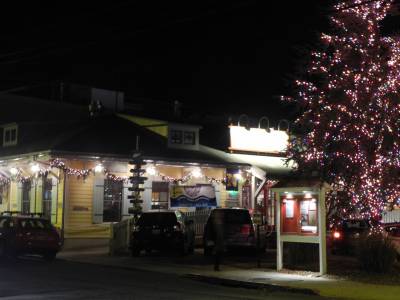 Well it's winter weather in Eastport, Annapolis here on the Bay and the local sailors and fishermen are here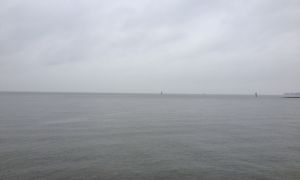 squawking about the summer's stories—the regatta they won except for the foul the judge didn't see and the rockfish that stripped all the line off their reel and kept on going. I especially love the winter gray days where the Bay is gray, the sky is gray, the ships anchored in the channel are gray-and the only color is the red and green blinking of the lighted buoys.
We held two recent events in November in The Boatyard Market private space. The first was for John Page Williams being anointed by the Governor as an Admiral of the Chesapeake. John has been a dear friend and longtime Chesapeake Bay Foundation senior staffer. Chief of Staff to the Governor, John Griffin, presented the citation. 70 of John's friends, family and admirers were in attendance for a buffet feast and First Light Lager (John's skiff is First Light) in a First Light Night commemorative pint glass. A slide show of John's life scrolled on the high def projector and screen. Congrats to John! See the buffet menu and photos under "Private Events" on our site.
The second event was a talk and slide show given by Eastport's Cindy and Robert Holden on a recent two year cruise on their sailboat to Spain, Portugal, Africa and the Caribbean. The talk entitled "Open Ocean, Colorful Castles and Cute Camels" was attended by a more than standing room only crowd. The highlight was how they integrated into the communities they visited. Were we all planning our cruise that we may or may not take? Cindy Fletcher Holden is a well-known local artist who painted the Hemmingway's fishing boat Pilar that hangs in the Pilar Bar in the Boatyard Market space. She also painted the boatyard painting that hangs over the main bar and of course the pictures on our bathroom doors of the labs that identify the girls and boys rooms. If you haven't seen them please notice them on your next visit. Her biggest piece for us is the long Chesapeake Bay mural in the alley into our back lot. If you haven't seen it –go on the very amusing recent film on YouTube where Eastport's own Oyster Boys are shown pointing to many of the critters on her beautiful mural as they sing. It's on our site under "Eastport Events - Eastport Oyster Boys….. Somewhere on the Gulf of Eastport".
All for now- come visit us and see the newly lighted Boatyard Holiday Tree outside on the corner of Fourth and Severn.