Happy Holidays to all and thanks for a great year!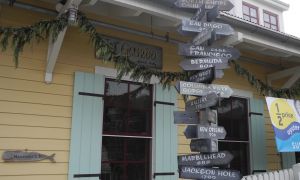 Many have asked how we came up with the "points of interest" hung on the boom from an old wooden boat out in front of the Boatyard. I think we have 40 some locations with directions from here that the "lifestyle committee" (my buddy Dave Gendell and I) came up with after several beers. We chose locations that sailors and in some case windsurfers and fishermen hang out. So you have the local Bay favorites—St. Michaels, Solomons, Oxford and Hampton; other sailing/lifestyle locations in the US—Newport, Charleston, Key West, Marblehead, Southwest Harbor, Mackinac Island, New Orleans, San Fran, San Diego and Columbia River Gorge and more; many international locations—Bermuda, Havana, Hobart, Azores, Halifax, St Barths, Antigua, Tortola, Fremantle, Cowes, North Shore-Oahu, Palma de Mallorca, Porto Cervo and more; and then a few other favorites Soggy Dollar Bar, Bozeman, Austin, Jackson Hole and Montauk. We left off so many great places and the lobbying has begun as it should. Like how could we leave off Jamaica? —Bob Marley for goodness sake. Thanks to George Davis and sign designer Brendon for locating the wooden boom and making it happen. Brendon came up with the "Margaritaville-direction- In Your Mind" sign at the top. We have wanted to get this done forever-it's up!
Speaking of points of interest, voting is hot and heavy for the World's Favorite Sailing Bar conducted by Wight Vodka and Scuttlebutt Europe. We are currently in third place on the list of ten finalists—behind One Bar, Playa Blanca, Lanzarote and the Royal Bermuda Yacht Club. If you would vote for us that would be great--at www.scuttlebutteurope.com/sailors-bars.html
All for now—Christmas shopping.