Darn spring and summer it's so hard to find Blog Time — two issues: it's when all of our life style charity events take place—Boatyard Opening Day Catch and Release Fishing Tournament, CBF Bands In The Sand, Boatyard Regatta to benefit C.R.A.B. and then right into Fall and the Boatyard Beach Bash for the Annapolis Maritime Museum - AND there are sooo many fun things to do on the Bay in this Land of Pleasant Living. Sorry for delay - I know you have been inside waiting for this!
The Tournament seems eons ago. Weather was great and we had, as always, a huge after party. The results and pics are on our site under Events. Check it out.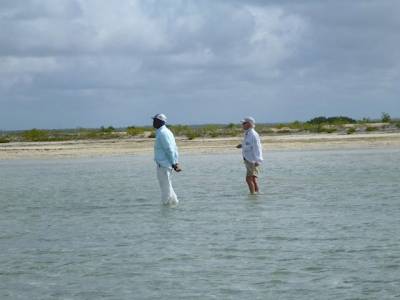 The Bahamas fly fishing was terrific. Blackfly Lodge on Marsh Harbor in the Abacos. First rate -great food and lodging. Fishing was challenging but no skunk days - bad days 2 bonefish, good days 6 bonefish. Here is a pic of me walking the flats on my good 6 fish day.
The biggie was Bands In The Sand, our big beach party for and at the Chesapeake Bay Foundation. If you haven't attended you should. It sold out in seven days this year.....1,450 people on CBF's beautiful beach here in Bay Ridge. The Boatyard serves amazing food and beverages to this crowd and we have a huge stage with three bands. As it was our 10th, we had Michael and Kevin Bacon and the Bacon Brothers Band. It was special hanging with the band at the Boatyard for lunch and talking to Kevin about the environmental issues concerning the Chesapeake Bay, his charity SixDegrees.org (check it out), and how we started the Boatyard and its mission and commitments. Kevin is a very smart, aware and charitable fellow and it was a pleasure hanging with them during their stay in Annapolis. Michael and Kevin did some public service videos for CBF which are really cool. Here is a picture of me at lunch explaining to Kevin how we have to lessen nitrogen, phosphorous and silt in the Bay. He was a great listener.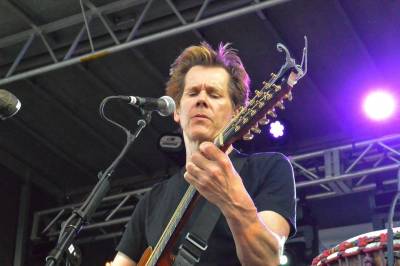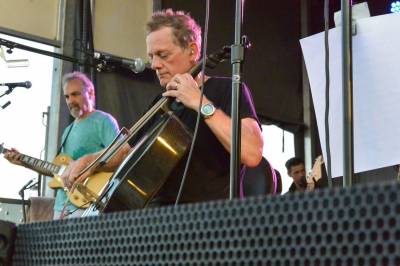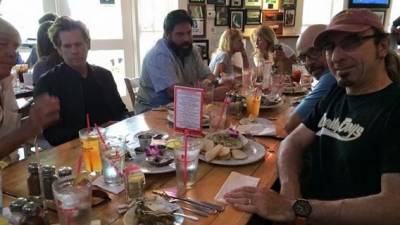 The third band is always Misspent Youth who we think is the best rock cover band around. They leave it all on the stage,....check out the pictures of the crowd when posted (soon!). Just amazing - a huge crowd dancing like they know how as far as you can see. Thanks to all involved this year- sponsors, Committed to the Bay committee members, CBF staff, my awesome Boatyard team, and all attendees—we raised $243,000 net of expenses. Annapolis rocks.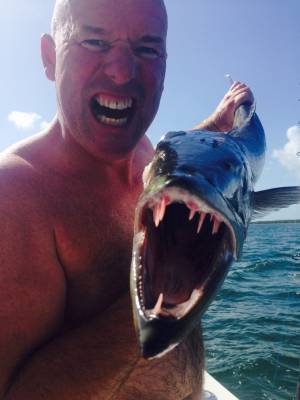 Lastly here is a picture of the voice of the Boatyard on WRNR, Eastport's pirate Tom Weaver. He has done all of our ads for years and his voice is recognizable by any who listen. Yes the Boatyard is where local pirates hang out. His last ad with my son and his two buddies had this advice: "to err is human; to arrrg is pirate" (Tshirts arrive in a few weeks). Which is Tom -- left or right in the pic?
Off to the next adventure!