School's back in. Yuk. But summer was super here.
A few weeks ago we held the Boatyard Regatta for C.R.A.B., the third of the Boatyard's lifestyle charity events. It's a family friendly pursuit start race of 92 boats on a post card day and a major league after-party with Misspent Youth, the best cover rock band in these parts. See pics of Dixon getting the crowd singing along and our crew Dave Gendell and daughter Abby and Fin and me. Dave's still got it and we won the third place trophy on our Alerion 28. The cause is C.R.A.B. - Chesapeake Region Accessible Boating - which gets our friends with disabilities out sailing on specially designed sailboats with coaches. Great day and great cause. Thank you sponsors, skippers and crew, party goers and volunteers. Mary Ewenson and her Spinsheet crew is the brain trust for the event.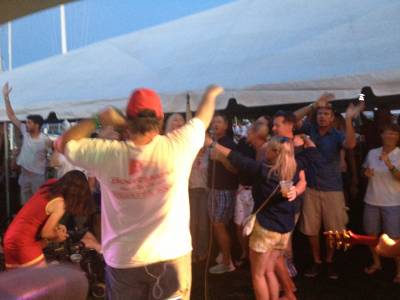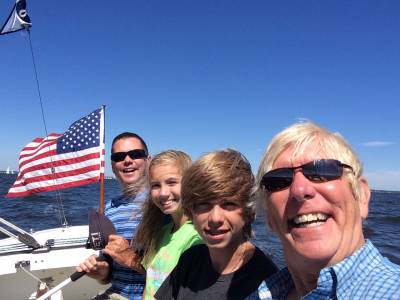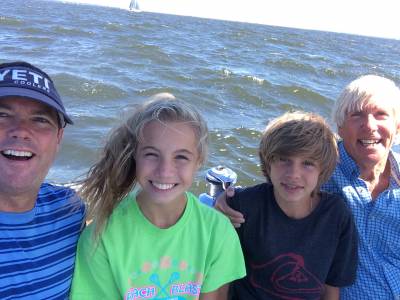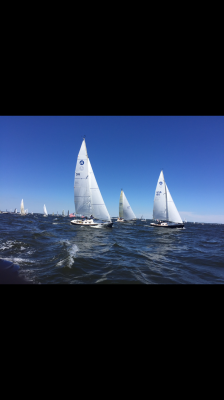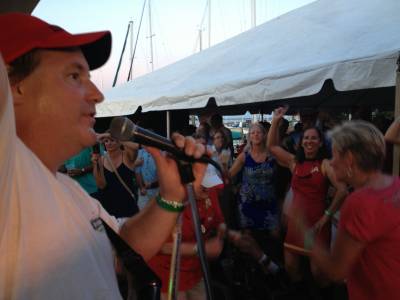 Next up is Saturday, September 19th for the Boatyard Beach Bash at and for the Annapolis Maritime Museum. It's a Parrotthead type affair with five of JB's Coral Reefer Band of amazing musicians plus the John Frinzi band from Florida and our dear friend Scott Kirby from Key West, Livingston, Montana and Maine. We bring in Mike Utley, Music Director and keyboardist for the Coral Reefer Band, guitarists Peter, Jim and Brendan Mayer and pedal steel virtuoso Doyle Grisham. If you haven't attended it's a pretty amazing evening of music from sooo much incredible talent. The party gives you a great chance to rap with the artists and tell your best Buffett concert story. Like remember when it poured that night at Merriweather and we were sliding down the hill on the lawn?? The AMM brings in 3-4,000 kids to learn about oysters and the ecology of the Bay. Please buy your tix early so you won't be calling me with a please-get-me-in.
We called up to Rockport Maine (two weeks before!) and rented a Beneteau 44.5 and a captain named Tug and sailed Penobscot Bay Rockland, where we visited neighbors the Freitags in Tenants Harbor, to Buck's Harbor thru Eggemoggin Reach on a beautiful day, to SW Harbor (also dinner in Bar Harbor by car) where we visited with our friends the Groobeys. Then to Castine, Belfast, Camden and back to Rockland. See pic of me shopping for lobsters for Chef George's wicked good lobster rolls and the view of Buck's Harbor and coming into Castine.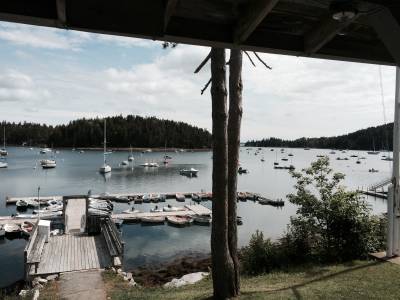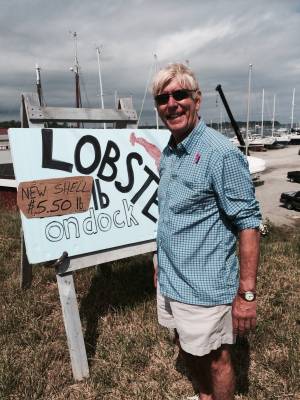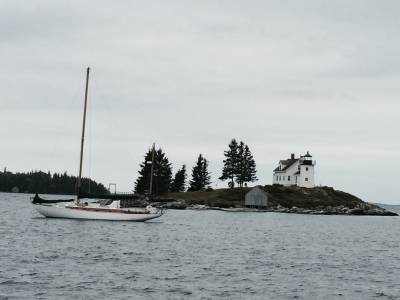 Five of us went on the National Geographic exploration ship Endeavor for a week in the Galapagos. It's an amazing trip in so many ways. Seeing what Darwin saw on the islands where the animals adapted to the particular ecosystem on that island - it's like a laboratory. Of course hiking to see the huge tortoises, blue footed boobies and so many birds and snorkeling with sea lions, penguins, amazing fish—they keep you so active - 6 AM for the photography education hike. Super service, food and naturalists talks. It's worth the connecting flights to Ecuador and then early flight to the islands. See pics from son Fin. His GoPro got a work out.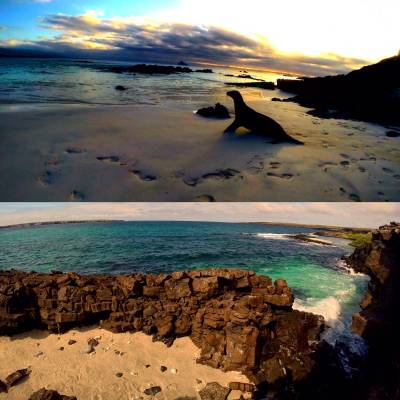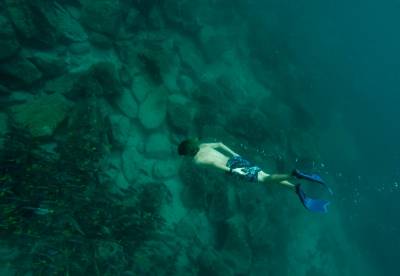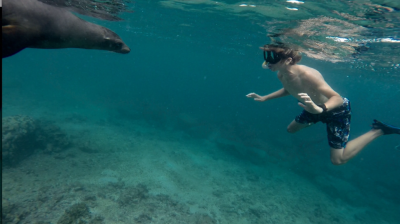 Fall is wonderful on the Bay--the weather, breaking fish, great wind, the Boat Shows, USNA football, the Arrrg months for Oysters. See you here I hope.
Oh I almost forgot –the Travel Channel's Food Paradise show filmed here all day today. Great crew, great fun. More on that to come and we'll keep you posted on the air date!