Yes it's certainly winter with this past week's record breaking wind chill temps. A lot of my neighbors in Eastport were scurrying to turn off the water to their outdoor faucets only to find them already frozen solid. Glad my boats are on the hard and the bubbler is on by the old wooden work boat that likes it better next to the dock.
Not too much sailing and fishing going on but that doesn't mean there aren't a lot of related fun activities. Please check them out on our web site under Upcoming Events.
Thursday, January 23rd is our annual "We're Not in Key West" Party for those of us who didn't go to Key West Race Week. Who needs the sun, blue water and Schooners Wharf anyway? We have live music by D'Vibe & Conga at 7 pm, and remember, Happy Hour is from 4-7 pm. There are prizes for those wearing flip flops. Most important is that part of the proceeds will go to Box of Rain which is wonderful local program.
Box of Rain is an Annapolis-based 501(c)3 organization that offers maritime programs and opportunities to disadvantaged Annapolis youth ages 9-14 in order to nurture self-esteem and develop life skills that lead to positive contributions to the community. Box of Rain was formed in May 2003 to honor the memory of Lee Griffen and his life and passion for sailing and his community. Since the program began, Box of Rain has had a positive impact on the lives of more than 500 children and their families. So come party with a purpose on Thursday, January 23rd.
Now for you anglers. This will be our third year of holding "cabin fever" Angler Nights in the back "Market area" at the Boatyard—where all the fish are hanging and raw bar is located. The dates are Tuesdays, January 28th, February 25th and March 25th. Come at 6 pm or earlier for Happy Hour Specials and Meat Loaf ("Mom the Meatloaf!") Night - plus half-priced bottles of wine with dinner. The movie begins at 7 pm—we have several great ones for this year. And of course the fish tales get better as the night goes on - "I swear it was 53 inches if it was a foot!" "The blitz was so amazing you couldn't hear anything other than slurping fish." "I caught red drum right off my dock this year." "I caught a 24" pickerel last week and I wish I could tell you where but I am sworn to secrecy."
News items:
**We had the 2013 Tug of War Victory Celebration at the Boatyard recently and since the Davis Pub–Boatyard "Eastport Bars" team (and overall Eastport vs. Annapolis) was victorious, the Tug of War Trophy for 2013 is proudly hanging downstairs in the main bar for the year.
**You may have seen that the Boatyard came in third of ten finalists in the The World's Best Yachting/Sailing bars contest held by Scuttlebutt Europe –the big sailing online media source. The Boatyard as first in the U.S. Thanks for all your votes. First place went to One Bar Playa Blanca in Lanzarote,Spain.
**We have new fleece and hoodies in our retail store - check them out.
All for now—off for 9 days in Cuba tomorrow. I'll post my travel report next time.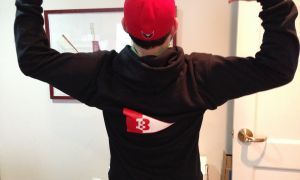 HOODIES pullover or zip, assorted colors