Here is the view from my deck - my neighbor, Former Major Ellen Moyer, is tending to a lot of Canadian Geese - feeding them quality corn –I'm sure much appreciated on these mornings with single digit temps.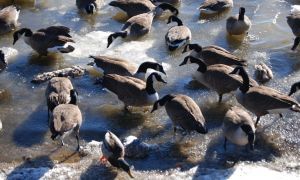 Ellen is known to protect every living thing including flies, mosquitoes and mice - creatures that most of us would not feel bad about eliminating. Thank you Ellen!
Thanks to all for attending The Boatyard's Not In Key West Party - during Key West Race Week.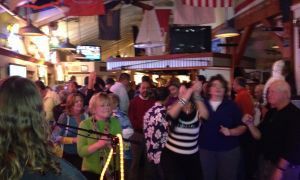 It was impossible to walk in the bar area and Box of Rain raised some good money for their wonderful mission of helping at risk kids learn life skills through maritime activities. We kicked in $500 from our proceeds and they did great on their raffle. Thanks Kelsa for coordinating and of course to SpinSheet for helping us publicize.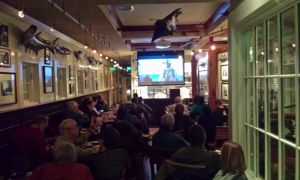 Angler's Night this past Tuesday was standing room only. Buck a shuck was huge. –our shuckers had sore hands for sure! From 6 to 7 pm the drinks and fishing stories (read "swapping lies") were going hot and heavy. The movie, Waypoints, was superb. It's so cool to have us fishing friends all suffering from heavy doses of cabin fever hang out and talk about the upcoming season. Thanks to PropTalk for publicizing, Joe Evans as main instigator, motivator and organizer and to CCA MD for rallying members.
Our next date for Angler's Night showing the movie Predator is Tuesday February 25th-.
Don't forget our 13th Annual Opening Day Spring Fishing Tournament is Saturday April 19th— no "honey do" lists that day - spread the word!!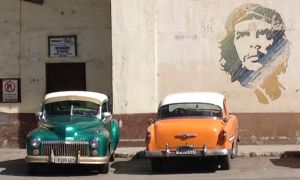 Cuba – returned last weekend from 8 days in Cuba. It's easy to go on a legal trip now and DC8s leave every several hours from Miami. What to say — its worthy of several glasses of good wine and a long discussion and I certainly can't do it justice here. It's one of four remaining socialist countries (I believe the others are Vietnam, North Korea and China - somewhat). I do feel very sad for those who had to leave their beautiful homes during the Revolution and understand their anger - many of which are now museums or house multiple families. Since the government owns everything and takes in all income and then doles it out, there is not the abject poverty that you see in other locations in the Islands. The people are very friendly, it is clean and very safe and there are no illegal drugs. The restoration of the beautiful old buildings is being done slowly and with care. The Spanish are building large resorts on the North Coast in partnership with the Cuban government. The cuisine is nothing to write home about as of yet and the Yelpsters would have a field day. The huge downside to the Socialist economic system is that there is very little upside for innovation and or hard work. It appears to me that those making the most income are involved with earning tips from tourists. Also it appears that a lot of money is given by Cuban Americans to their relatives who remain there. It's a fascinating and fun place to visit and study and the rum is good. You can buy amazing "street art" for incredible value. I trust that our governmental political differences will someday be resolved and it will truly open up for Americans - like cruise ships - help! This will benefit the Cuban economy but it might be less interesting to visit then. Who knows? – so go soon. See picture which is as typical as it can be.
BTW the Boatyard closes this Sunday eve for our annual four days of maintenance and cleaning. We will reopen at 11am Friday, February 7 - all brand spanking clean.