June 6th and 9th 2014
"Dick, 'write the blog'" says my team......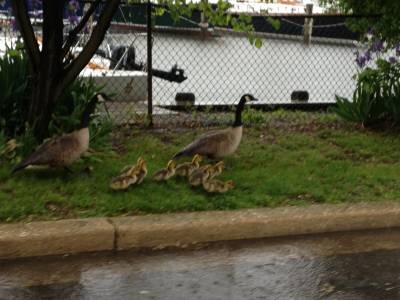 We love spring in Eastport. On my way to work—all of 10 blocks-- I passed these Canadian geese and 8 goslings - on their way to the Boatyard Bar & Grill I presume. And the mallards of my dock are teaching their ducklings to exist- one mallard hen had 10 swimming in her wake.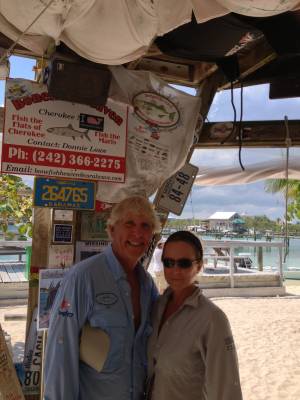 Spring sprung just as we were returning from the Abacos-Elbow Key-Hopetown. What a terrific place. Stayed at the Hopetown Harbour Lodge. Very reasonable-right on the beach-lovely saltwater pool-great frozen margaritas. You rent an Albury 20 to tool around the beautiful waters and a golf cart to ride around Elbow Key for dinner. Hopetown even has a fantastic coffee shop run by a very friendly couple. Besides being a beautiful island it has the very boat friendly Abacos Sound which has terrific snorkeling on protected reefs and wonderful tiki bars. See pics of Pete's Pub and Nippers. Easy to get to, friendly people, good food, good coffee, safe boating, great bars-go there! And the bonefishing is very decent as a bonus.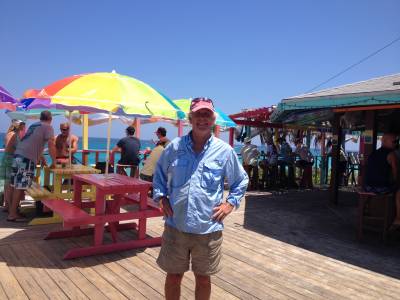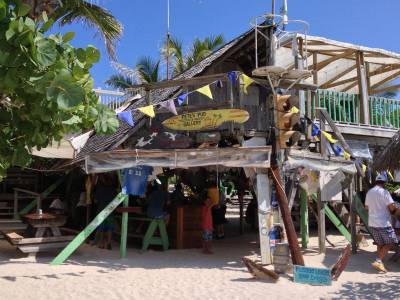 The AYC Wednesday Night Races are in full swing and I will take a break from finishing this to go out on our film boat to watch T2P.TV film the evening's races. We bring them right back to play on the big screen in the Boatyard bar. Weekends start on Wednesday in Eastport in case you don't know. –Went out on film boat but not a breath of air so we took the boat to Cantlers up Mill Creek for crabs on their deck. Danny – GM- always does a great job.
If you could be an entertainer-who would it be? I would want to be singer/songwriter/surfer Jack Johnson.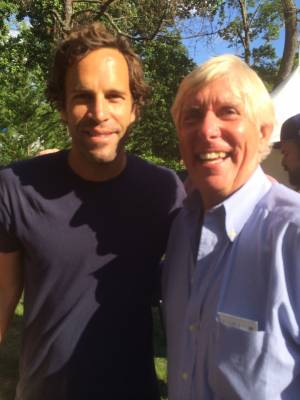 We got to attend his sound check and attend a pre-concert dinner with him at Merriweather Post Pavilion last week. He got around to greet all of the 15 or so guests. He was there with his wife and two children. After leaving us and right before the concert he went on a bike ride with his kids. I gave him a tee shirt from the Chesapeake Bay Foundation and a poster from CBF signed by a large group of the CBF staff thanking him for all he does for the environment. (Jack then face-timed Georgie's son who is a super fan working at Dewey Beach.) ("CJ this is Jack Johnson-how are you man?" –pretty cool to get that face-time call from JJ, yes?) The Boatyard and Jack are both members of 1% for the Planet - a growing list of businesses that pledge 1% of their revenues (not profits) to approved environmental causes. One Percent was started by the owner of Patagonia. The founding principal is that no matter how green you are all business take a toll on the environment-like our staff and customers have to drive to get to us, etc. I reminded Jack that we have an old Patagonia surfboard signed by him to the Boatyard Bar & Grill, fellow member of One Percent-with his drawing of a wave and "aloha." It's one of our treasures.
This weekend is our 9th annual Chesapeake Bay Foundation Bands in the Sand - we plan to have 1,300 or so people attend. It's right on CBF's beautiful beach. We have three bands, amazing food and beverages. There will be neat Bands in the Sand merchandize for sale and a raffle for a Vespa, beach cruiser, guitar and tickets for Southwest Airlines. If you want to go-buy your tickets now from CBF's site. We hope to see you there.
Next blog we will be looking forward to the Boatyard C.R.A.B. Regatta on Saturday, August 23rd. If you don't sail in it - the after-party is amazing and open to all.