I need to be brief because Paula is kicking my bum to get the blog written and I am off to Montana tomorrow at 5 am
For the guys: if you go into the men's room in the original Boatyard (main bar) you will see a wall of Montana pictures, signs, license plates etc.—Montana has been an important part of my life since my fly fishing buddies from Alex Brown & Sons. Tim and Rick and I started going out there in the early 1980s. It's known as the "world's last best place." We used to fish fanatically for a week and stay at no-tell motels -now we stay at Tim's amazing house on the Madison. He still wants me to fish fanatically, which we do - although I say to him "it's ok to just sit here and watch the river too". I took my oldest son Alex there when he was 10 and I tied a rope from his belt to my belt so we could wade in the roaring Madison and I wouldn't lose him in the current. Pretty amazing memories from an amazing part of the world.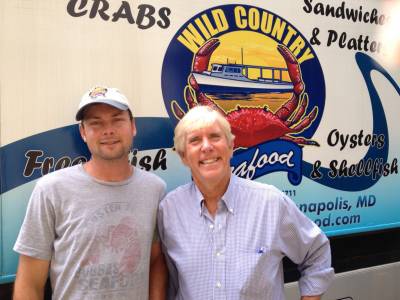 We are into the thick of summer now - it's so nice here on the Bay. Here is a picture of me and Pat Mahoney during an oyster delivery to the kitchen door at the Boatyard. He and his Dad are watermen out of Second Street and Back Creek in Eastport. The Boatyard buys everything we can from their business - Wild Country Seafood....great oysters, soft crabs, rockfish and so on. They keep two Bay Builts at the Eastport Yacht Center - going out at first light and back by about 10 am or so. They maintain a small retail store right in back of the Annapolis Maritime Museum. I'm lucky to live about a block away. They work real hard and are super people. Go meet them if you can and think about them when you are stuck in traffic going to your job.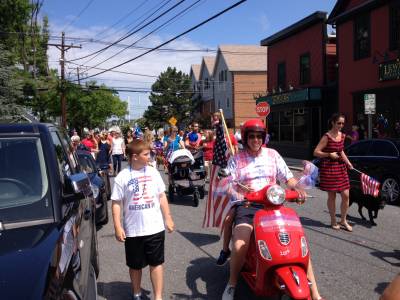 Here's a picture of the Eastport Fourth of July Kid's Parade - it starts up at Eastport Elementary, goes by the Boatyard down Fourth Street and ends up at the Park on Third Street at Chester. Jess Pachler and others from an Eastport parents group organize it. Fourth of July Parade - "Eastport Style."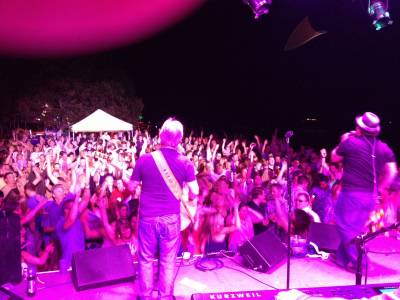 A third picture is from this year's Bands in the Sand gala at and for the Chesapeake Bay Foundation in June. It's held on their beautiful Beach in Bay Ridge. We wound up selling out and could have sold another 150 tickets. The event raised $185,000 net of expenses for the Chesapeake Bay Foundation and their great work in preserving the Bay, a national treasure. The picture is taken from the stage - are we having fun or what? Read about the event on our site under events.
And a last picture is of our new frozen Pirate Drinks at the Boatyard — as Tom Weaver's current ad on WRNR says - order them with an ARRRRG and received a discount -- for all local pirates. Say......I would like a "Pirrrrrrrate Drink."