Next Date: August 2023 - TBD
Even if you don't sail, sign up and support the cause!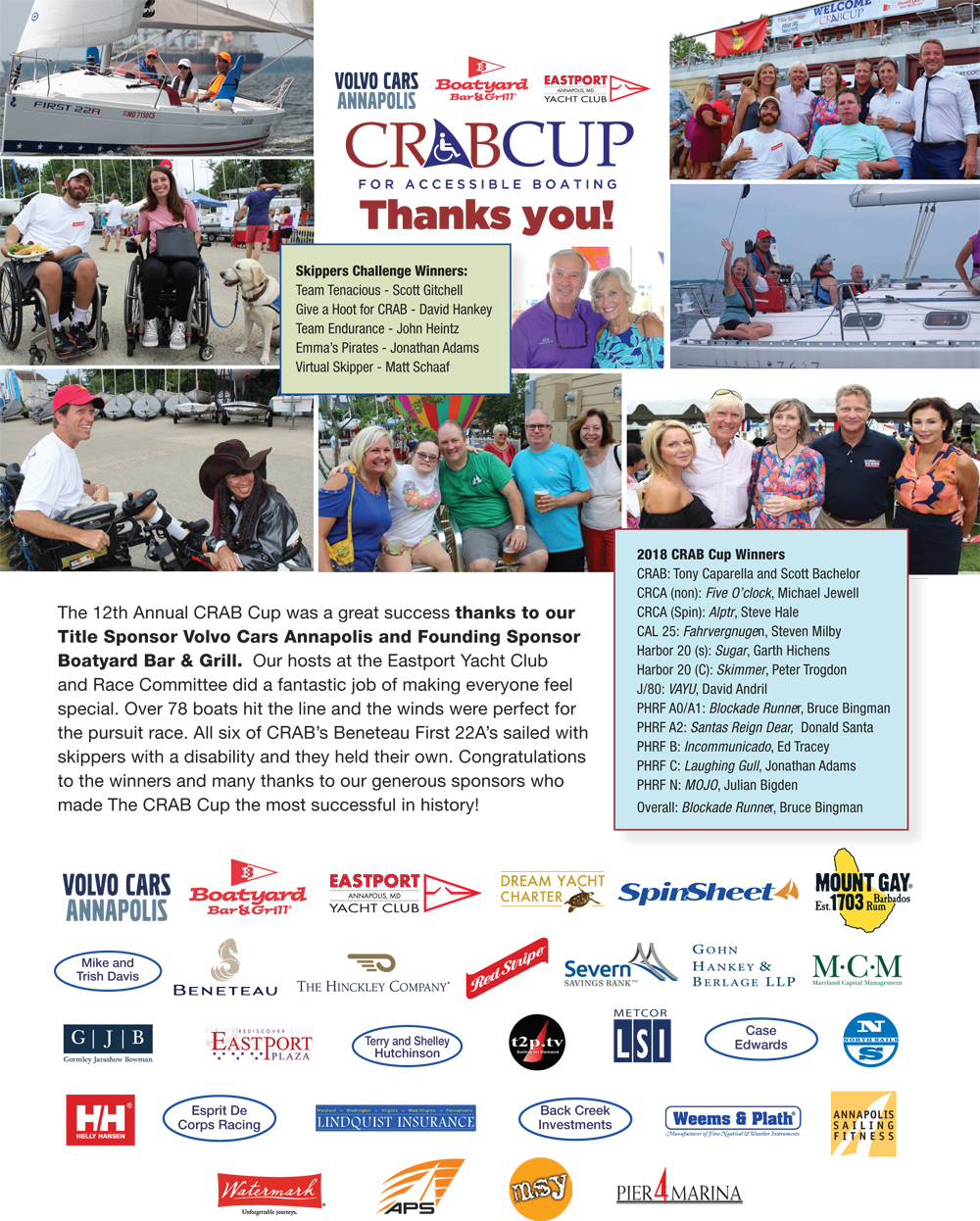 The CRAB Cup benefits C.R.A.B. (Chesapeake Region Accessible Boating – a non-profit organization dedicated to making sailing available for people with disabilities).
2022 was the 14th Annual CRAB Cup (formerly the Boatyard Regatta) to benefit C.R.A.B. The Boatyard Bar & Grill's owner was approached by C.R.A.B. to consider taking over the old Heineken Cup, a fun, friendly, family-oriented pursuit-start Regatta, and have it benefit C.R.A.B. Dick Franyo had visited The Boatyard in Barbados which holds a Mount Gay regatta and was of course very envious! Enthusiastic about creating his own Boatyard regatta and have it benefit an amazing organization like C.R.A.B., he immediately called his friends at Mount Gay who agreed to sponsor it and to provide those coveted red hats to participants. A Mount Gay resounding "yes" and the Boatyard Regatta, now known as the CRAB Cup, was born.
Dick and Mary Ewenson of Spinsheet serve as Board and Regatta Chairs and the event could not be held without Spinsheet's dedication and enthusiasm. See Gallery for pictures for last year's event.
Eastport Yacht Club generously hosts the event and serves as race committee. What makes the race different is that it is such a fun, no-pressure, feel-good regatta where captains bring their families and friends. But it is also a nice tune-up for the competitive Annapolis Race Week held throughout the week following the event. Rockin' with a great band, the after-party is open to the public and food is provided by the Boatyard team!
A Tribute to Bill Wagner - Honorary Chairman of the CRAB Cub 2018